This page provides with information about some important resources useful for collectors of mechanical calculators.
---

The International Association of Calculator Collectors. publishes a quarterly newsletter with information of interest for collectors of mechanical or electronic calculators. The membership fee cost US$16 per year (US$20 outside the USA). For more information visit its Web site or send an email to Guy Ball.
---
Another site of interest is the IFHB Internationales Forum Historische Bürowelt e. V. - a society of mostly German collectors of old calculators and typewriters.

---

To get in touch with other collectors subscribe yourself to the Mechanical Calculators Mailing List maintained by Erez Kaplan.
To send commands (not messages to the subscribers) use the following address: LISTSERV@TECHUNIX.TECHNION.AC.IL. Commands must be included in the message body, not in the subject field. The main commands are:
SUBSCRIBE CALCLIST-L (to subscribe to the list).
UNSUBSCRIBE CALCLIST-L (to unsubscribe from the list).
SET CALCLIST-L ACK NOREPRO (to send a short acknowledgement).
SET CALCLIST-L NOACK NOREPRO (to disable acknowledgments).
INDEX CALCLIST-L (to get an index of previous messages).
GET CALCLIST-L LOGxxxx (to get a copy of a previous message).
INFO REFCARD (to get additional info on available commands)
Once subscribed, send messages to all subscribers by using this email address: CALCLIST-L@TECHUNIX.TECHNION.AC.IL
To access the list archives use the following address:
http://tx.technion.ac.il/archives/calclist-l.html
---

If you also collect electronical calculators, subscribe yourself to the Automatic Calculator Email List located in http://www.egroups.com under the groiup name "oldcalcs" Once subscribed, you can send messages to all subscribers by using this email address: oldcalcs@egroups.com.
---

Another option is to post your messages in the "Vintage Calculators & Slide Rules Forum" at this site.
---
Rick Furr's CURTA Calculator Page is indeed the absolute reference for Curta related information. A great place to visit!

For help with Curta repairs contact:

Jack Christensen
chronos@northshore.net
Timewise
32 Old Barn Road
Hawthorn Woods, IL 60047
(847) 550-5052
http://home.attbi.com/~timewise1/
---

For a comprehensive listing of mechanical calculators, visit Michel Bardel's site. It is great reference site with a tentative list of all existing mechanical machines since 1851!
---

Also, you may want to visit the Forum for Antique Scientific Instruments hosted by "The Gemmary." It usually have posts related to mechanical calculators.
---
Need "springhooks" for your old Burroughs calculator? Michael Hancock can help with that.
---
Thanks to a collector from Moncks Corner, SC who wants to remain anonymous, Ernie Jorgenson have a few Burroughs keys. These keys are used to remove the covers from the following machines.

BR6. Fits the Glass Sided Burroughs as the Flat Bed Adder. Price: $8.00

BR7. Fits the Burroughs Key Drive 'Comptometer Type' Calculator. Price: $8.00

Please adding $1.50 for Handling and Postage.
---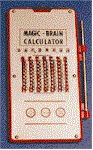 Dick Rose is a dealer of mechanical calculators and slide rules. His inventory of slide rules is very impressive. Click here to review his products.
---

For repair, service and remarketing of your old office equipment you may contact Neal McChristy at RS&R - Yesterday's Office.
---
If you want to sell, buy or trade a calculator, post your ad or review the ads in the sites listed on the "Classifieds" section of this site.
---
If you are a former Friden employee or are interested in the history of Friden, you want to visit Frank Rauck's Friden Web Page.
---
Click here for Ernie Jorgenson's Catalog of Manuals for Mechanical and Electro-mechanical Calculators.
---
Ray MacKay can provide a CD-ROM with 500 MB of info about MADAS and Comptometers. The information includes manuals in PDF format and pictures in JPG and GIF format. Click here for details.
---

Yesterday's Office is a place where you can find information on repairing old mechanical office equipment. This is service provided by Neal McChristy as part of his "Repair, Service & Remarketing, RS&R" web site.
---
If you would like to wear a quality heavy cotton CURTA T-shirt, grey or white w/blue-black printing, contact Vic Kulikauskas $19.95 + $4 shipping

---

Start your search in The Google Page of Calculators.
---
---
We try to collect information about all mechanical devices. With contribution of all collectors all over the world. At the moment more or less in German only, but hopefully a lot of English speaking collectors join ReLex soon. Will you?

As a offer to all is the list (and partly content) of a very large number of patents. Please try it!

If you know more patents, please inform us, we'll add them.

See you in ReLex!
---
If you need to calculate the price of car insurance, you can use a car insurance calculator at www.carinsurancecalculatoronline.com. It lets you compare the prices of different companies.