V. HISTORICAL PERSPECTIVE
A. Technology Predictions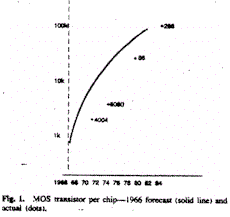 The promises of high density solid state circuitry were becoming apparent in the 1950's. In 1959, Holland contemplated large scale computers built with densities of 10**8 components per cubic foot [34]. The integrated circuit was developed in parallel at both TI and Fairchild. Technology forecasts were made by Fairchild's Gordon Moore and Robert Noyce in the mid-1960's -the density of IC's was doubling every year [35]. "Entire subsystems on a chip" were predicted if a high volume standard chip could be defined. By 1966 Petritz of TI was forecasting about 10 k transistors per chip for 1970 and 100 k (optimistically) by 1976 [31]. See Fig. 1 for a 1966 forecast of chip complexity. It was then estimated that about 10 k-20 k gates would fit on a chip and that a good portion of a CPU would therefore be on one chip.

In 1966, Hobbs forecasted the reduced cost of arrays, predicting that the CPU cost would become "negligible" [5]. Practical people recognized that the issues were the "number of unique part numbers and the production volume" after all only a few thousand computers were made each year [36].

B. SSI MSI, LSI Chips

By 1968 16-b minicomputers utilized a single printed circuit board CPU containing around 200 chips. These were medium scale integrated circuits (MSI) with ~ 100 transistors per chip, and small scale IC's (SSI). Obviously, the more transistors that could be put on a chip, the fewer chips needed on a PCB. Since manufacturers were trying to reduce costs, there was a constant battle to reduce the number of chips used -could a CPU be built, with 150, 80, or 25 chips?

By 1970 there were a few projects to build a 16 b minicomputer CPU using multiple LSI chips. A 1000 transistor chip would be called large scale (LSI). These projects were being done with military sponsorship at Raytheon and RCA. The air force was especially interested in light weight airborne minicomputers. These were full 16-b minicomputers and did not have a scaled down specification (like the MCS-4), except for their physical size [37], [38]. They utilized 4-b or 8-b arithmetic and register "slices"; a minimum CPU would require 8-12 LSI chips with about 6-8 different part numbers. These were R&D projects [39], [40].

C. LSI Economics

The use of custom LSI in an application required very high production volume to commercially justify the significant tooling costs. One would need to produce around 100 000 systems for commercial feasibility. The only high volume commercial applications in the early 1970's were calculators; almost every calculator manufacturer was designing custom LSI chips. These chips were invariably very specialized for arithmetic, printers, and keyboards -(Busicom's original request).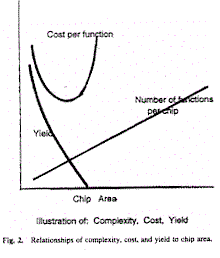 Besides tooling costs, another problem is to get an economic die size. If a die is too small it does not contain enough circuitry to justify a fair price. If a die is too ambitious and large, the manufacturing yield will be too low and the chip will be too expensive [41]. See Fig. 2 for an illustration of complexity, cost, and yield. Worst of all, at the beginning of a complex chip project it is not easy to accurately forecast the final die size. Defining standard high volume LSI chips is challenging [36], [42].
Consequently, in 1970, no one had defined general purpose LSI building blocks that were usable in a variety of applications. The only LSI building blocks available were memory chips. Honeywell tried to get multiple sources for a 64-b bipolar LSI memory chip, but that was on the leading edge of bipolar technology, and not many vendors could make them [43]. Metal gate MOS ROM's and 200-b shift registers were available from a few sources: AMI. Electronic Arrays, MOS Technology, and General Instruments. See Table 1 for 1965 LSI chip examples. Although these chips had around 1000 transistors, they were very regular in structure and easy to design. Because their internal wiring was minimal, they were 2x - 5x more dense than "random logic" chips.
Table 1 MOS Chip Availability in 1965
Manufacturer
Type
Transistors
Pads
GME
100-b shift register
600
12
GI
21-b static shift register
160
11
TI
Binary-to-
digital decoder
150
26
C. Partitioning into Packages

One difficulty implementing any system on a set of LSI chips is partitioning [44] into pieces with a reasonable number of I/O pins on each. It was very expensive to get more than 20 pins. Around 1970 there were very few commercially available low cost packages. The most common had only 14-pins and sold for around $1. Cost sensitive applications such as desk calculators could not afford 48-pin packages which were then selling for around $10.
Optimization consists of maximizing the number of gates inside compared to the number of pins outside -the gate to pin ratio. Memory chips with 1 kb in an 18-pin package gave an excellent gate/pin ratio of about 100:1. Each time the technology allowed a doubling of bits on a chip, only one more address pin was needed. A shift register was even better, because regardless of the number of bits added, the input/output pin count stayed constant.
If a CPU were to be built of LSI chips it was not obvious how to break it into pieces with a small number of I/O pin connections and a high gate/pin ratio. Simply put, if you cut an ordinary CPU into two pieces you would have hundreds of signals which would need to cross the chip boundaries.
Each package pin also required a lot of MOS chip "real estate" for amplifiers to drive the heavy off chip capacitive loads and for the wire bonding pads which go from the chip to the package. Besides the cost, placing more pins on an LSI chip also lowered the reliability. Hence, most commercial LSI applications were constrained by the few leads available on IC packages. This is why the early microprocessors were in 16 and 18 pin packages.
D. Semiconductor Technology

On-chip interconnections are also a major problem. A CPU chip contains "random logic" requiring many interconnection wires. Prior to 1980 most semiconductor chips had only one layer of metal. This metal was used for global connections such as power, ground, clocks, and major busses. Local connections were made using poorer quality, higher resistance, lines of poly-silicon or diffusion.
The silicon gate process [18], developed originally at Fairchild Semiconductor in around 1967, provided slightly better local interconnections and crossovers. This technology also offered lower capacitance, smaller size (self-aligned structures) and lower voltage operation. This was a key technology enabler for microprocessor development at Intel. The 8008 chip for Datapoint was implemented using silicon gate technology. In contrast, TI was at that time, using metal gate MOS technology and used about twice the amount of silicon area for a similar chip.
Silicon gate P-MOS needed a 14 V supply, and was often biased between +5 V and -9 V to give pseudo-TTL compatibility. This relatively high voltage aggravated the severe power budget facing the circuit designer. Small IC packages cannot dissipate more than 1/2 W of power in normal air cooled systems. The compromise was to use dynamic logic operating at low duty cycles to reduce heat. In 1995, power dissipation is still a major design factor in commercial system design. It has been one of the driving factors toward 1.5-2.5 V technology; battery operation is another factor.
F. Circuit Factors

The P-MOS transistors in 1970 required 14 V to operate. To reduce the overall power dissipation most of the circuits were operated dynamically in a two phase operation. First a circuit was precharged using an on-chip amplifier, and then the circuit was conditionally discharged, based upon logic decisions. Previously, "bootstrap" amplifiers were built using the gate "overlap capacitance" as part of the circuit. However, silicon gate self-aligned geometry eliminated this capacitor. F. Faggin innovated a new and efficient bootstrap amplifier as part of his early circuit design of Intel's chips.
Another element which made micro's feasible was the dynamic RAM cell. The memory storage is obtained by storing a charge on a small capacitor. This capacitor is usually integrated into a three-transistor memory cell. However, the memory starts to fade after about 5 ms, so that an external "refresh" circuit needs to read, test, and restore the charge on a periodic basis. Static memory cells required twice the chip area and used much more power; they were impractical for use inside the CPU. Recall that Intel was only a memory company in 1970. Hoff had done research on memory cell design and, proposed to use dynamic RAM inside the CPU for index registers and stack. Hoff's insight was essential for enabling the first microprocessor chip.
G. CAD Tools

Since the mid-1960's computer makers had been doing circuit analysis using "home grown" tools. Hoff and I developed a transient analysis program (PULS) to help with MOS circuit design. lntel's Dov Frohman, who invented the EPROM (he didn't call it FROM), provided the transistor model. lntel's designers used PULS to help them achieve the desired ac/dc performance. Hoff wrote our first logic simulator for the PDP-8; later I used a commercial (Applicon) tool for the PDP-10. I abused the DEC macro assembler to get the first MCS-4 code assembled and into the 4001 ROM bit map. We developed the early calculator firmware with this assembler. The availability of these CAD tools allowed our designers to catch design errors early and were essential to Intel's success. A few Silicon Valley CAD companies were spawned from these in house CAD groups.
H. The Microcomputer Name

In the mid-1960's midicomputers and minicomputers were selling in the marketplace. Some computers used a microprogram, stored in ROM; the inner part of such a computer was called an "engine" or "microengine" or "microprocessor." In 1970, a microcomputer was normally interpreted as a computer considerably smaller than a mini-computer, possibly using ROM for program storage. By extension, the terms "nano-computer" and "pico-computer" have also been used by computer engineers indicating relative size and performance of computers.
In the late 1960's Fairchild had a logic family called µ-logic, so the prefix was also used for "micrologic" in IC's. (Since most of the Intel guys had come from Fairchild we avoided references to their product line; Intel did not use the Greek letter).
Lo [45] mentions "the computer on a chip" in 1968, and Scientific American also featured "Computer on a Chip," with 400 gates in 1970 [2]. IBM looked for ways of simplifying computers. In 1968, Hitt proposed a 4-b computer with no arithmetic unit and no registers (CADET -can't add doesn't even try). But this very simple computer was not built with LSI and was still called a minicomputer [11].
The single chip central processor unit (CPU) has been commonly called a microprocessor. With off chip memory, it is usually called a microcomputer. Single chip computers are often called microcontrollers. The 4004 specification was for a microcomputer.