The chip trio

The 4004 was essentially the brainchild of three engineers: Ted Hoff, Stan Mazor and Federico Faggin. In April 1969, Busicom, a Japanese calculator manufacturer, contracted with Intel, then specializing in memory, to develop a series of custom chips for five upcoming machines.

The concept had been considered inevitable; the difficulty lay in how to do it. Mazor, a former Fairchild Semiconductor engineer, joined Hoff to develop a design.

Economically, a single chip was imperative. Busicom's original specifications "would have taken about 16 different chips," recalled Les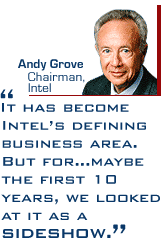 Vadasz, president of Intel Capital, the chipmaker's investment arm, and one of the managers of the 4004. "We said, 'Holy s**t. We don't have that kind of manpower.'"
Cost-conscious Intel also required that the calculator chip fit into the same 16-pin package the company used on its memory products. Pins, the metallic channels on a pin package, serve as conduits for electrical signals.
"We were very careful in being minimalistic," Mazor said. "Management wasn't too interested in (the 4004). We got into the computer business more or less by mistake."
After Hoff and Mazor completed the conceptual architecture, Intel's Vadasz lured Faggin from Fairchild in April 1970 to construct the chip. Like Hoff, Faggin had already established a reputation within the industry. He had developed silicon gate technology, which allowed designers to drop aluminum transistor gates, which were far larger and harder to control.
Silicon gate technology "was smaller, faster, more reliable, cheaper. What more do you want?" Faggin said.
To this day, disagreements swirl over who deserves the most credit for the 4004. The architecture guaranteed the chips would work, said Mazor, calling Faggin "the guy who stayed up all night and tested them to see if they worked."
For his part, Faggin said that "anybody with a college degree could design an instruction set," a fundamental part of Hoff and Mazor's work in 1971--an opinion shared by some analysts. Mazor even admits that he and Hoff borrowed liberally from IBM and Digital instruction sets. Vadasz, who had a bitter falling out with Faggin in the 1970s, credits Hoff because he came up with the necessary creative conceptual leaps.
In any event, deadlines had already become a crisis. On Faggin's second day on the job, Masatoshi Shima, a Busicom engineer, arrived to check on the project's progress. No work had been done since December. Shima hit the roof.
"It was very close" to falling apart, Faggin recalled. "It took me the best part of one week to calm him down."
Nonetheless, Busicom granted an extension to the contract. Fourteen-hour workdays for Faggin and three drafting assistants followed. Unlike current designers, who use high-end workstations to design circuits, Faggin's team laid out circuit patterns with razor-thin strips of rubylith, designing tape now considered archaic even by newspaper layout rooms.
While the 4004 became the first microprocessor, Intel's total package consisted of four chips: the 4001, a read-only memory (ROM) chip for storing software; the 4002, a random access memory (RAM) chip for data storage; and the 4003, an input-output device. By October, working samples of the 4001 had been produced--a milestone.
"Before that time, I was under a lot of stress because I didn't know if there were any 'gotchas,'" Faggin said.
Despite early success, the first batch of 4004 chips didn't work--a quick look through a microscope showed the manufacturing team had forgotten a crucial step. The memory still prompts a big laugh from Faggin.
Although the delays angered Busicom, the extension handed Intel its first fortunate twist of fate. Some Intel insiders began to comprehend the power of the invention, assisted by pushing from the three inventors.
Intel founder Bob Noyce, for instance, started to question whether the 4004 had broader implications, recalled Vadasz.
Meanwhile, the calculator business had become more cutthroat. By the time Intel finished the 4004, Busicom wanted a discount. Intel made a counteroffer: It would drastically cut the contract price if Busicom would grant Intel a license to freely sell the chip outside the calculator market. Busicom agreed.
Whoops.