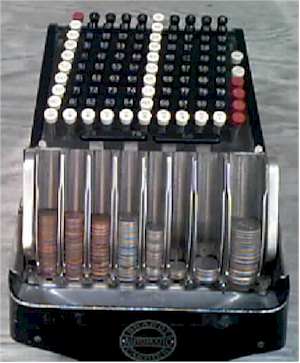 From: Bill Snyder
Subject: Brandt Automatic Cashier
Date: May 31, 1998
I have what I'd call a "subtracting machine". It makes change for one dollar. That is, when a $ was tendered at the old department store where this machine was found, the clerk punched in the purchase amount (say, 57 cents). The machine did the subtraction, then dropped 43 cents into the clerk's hand.
It is the "Brandt Automatic Cashier", made by a company by that name in Watertown, WI.
(A similar machine was commonly used in banks but it did no calculations. If a clerk keyed in 57 cents, 57 cents dropped into his/hers/its hand).
I would be happy to learn more about Brandt and their machines (or answer any questions about this one).
Regards,
By the way, it is a desktop mahine, serial #101-88620. The oldest patent # is 1,616,515. and the latest patent # is 2,406,948.